Green Spaces
You can find a list of the main green spaces in Finchley and Friern Barnet compiled by the Society here. You can find Barnet Council's list of parks and open spaces here.
Photographs: You can find photographs of some of these green spaces here.
Long Lane Pasture: This is a two acre meadow on a remnant of the original Finchley Common in Long Lane, Finchley, London N3, opposite Finchley fire station. It is managed under Trust deed on a lease from Barnet Council, and is run entirely by volunteers. It is open daily throughout most of the year. You can find out more here.
Friends: Many other green spaces are maintained by volunteers as well. You can find some of these "friends" groups here. There are also broader alliances of these groups, for example Barnet Friends of Green Spaces Network, the London Friends of Green Spaces Network and the London Parks and Green Spaces Forum. The Open Spaces Society, Britain's oldest national conservation body, assists local communities so that they can safeguard their green spaces for future generations to enjoy.
Walks
Thirteen Walks in and Around Finchley: East Finchley resident Tony Roberts has devised and documented an extensive range of walks in and around Finchley. You can find out more about these excellent walks here.
From Long Lane to Dollis Valley: Finchley Society Members Barry and Sue Blain have created a set of walks in Finchley Central. You can find out more about the walks here.
A Green Spaces Walk: Tony Roberts, with help from Derek Warren, has devised a walk through Finchley and Friern Barnet's green spaces.You can find out more about the walk here.
Walks on the Barnet Council website: Dollis Valley Greenwalk is a 10 mile walk linking green spaces along the Dollis Valley, starting in Moat Mount, Mill Hill through Barnet and into Hampstead Heath. There are guides with maps and information about the route. There are also four Healthy Heritage Walks on the Barnet website. For each walk there is a map, a downloadable audio guide that you can play as a podcast, and a transcript of the downloadable audio guide:
Hendon to Mill Hill Walk
Totteridge Walk
Barnet and Hadley Walk
East Finchley to New Southgate Walk
Councillor Caroline Stock, then the Mayor of Barnet, discussed these walks at our July 2020 monthly meeting. You can find more information about her talk here.
Other Walks: John Twiselton's book Forty Walks from Ally Pally (available from Amazon) includes some walks in Finchley. There is information about other walks in Finchley and Friern Barnet here.
Footpaths Project: We have launched a project to catalogue the footpaths in Finchley and Whetstone. Find out more here.
Trees
Street Trees: The Mayor of London has issued a map of all of London's street trees. You can view the map here.
TreeTalk encourages Londoners to explore, discover and identify the trees around them. You can find out more about TreeTalk here, and in The Guardian here. Treetalk provides an online mapping tool featuring the location and species of more than 700,000 trees in London. You can use this tool to create a personalised daily tree walk, in this case around Stephens House and Gardens: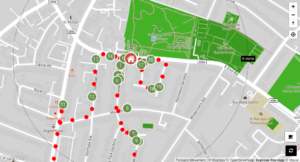 You can see the details of the walk (and create your own walk) on the TreeTalk website here.