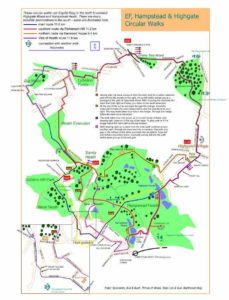 Tony Roberts, an East Finchley resident and Finchley Society member, has devised and documented thirteen walks in and around Finchley.
The walks include:
East Finchley, Hampstead and Highgate Circular Walks
Muswell Hill and Ally Pally
Dollis Valley Walks – Hendon Circular, Moat Mount to HH, Darland, etc.
Finchley Green Spaces
East Finchley to London Bridge or Moorgate
Muswell Hill and Fortis Green
Shady woods walk for hot sunny days
East Finchley 'Walks'
Byways to Hampstead (or on to Hyde Park)
Hampstead Garden Suburb
Two East Finchley Cemeteries
Lockdown walks from East Finchley
Finchley Landmarks Past and Present
Each walk includes a route map and a detailed Walk Notes. You can download Tony's walks here.
When not busy walking (and documenting his walks) Tony has served as Custodian of our Archives, our Membership Secretary, and our webmaster.