Presentations by the Environment and Transport Committee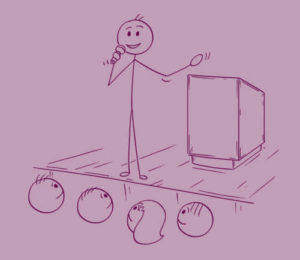 November's meeting featured presentations by three members of the Environment and Transport Committee on:
GoodGym Barnet
Cycle Lanes and Low Traffic Neighbourhoods
Redundant Phone Boxes
Paul Salman discussed GoodGym Barnet. GoodGym is a way of keeping fit whilst helping with community projects. Its members are a group of local residents who run, walk, or cycle to help out community projects and older people in Barnet. GoodGym sessions range from hanging curtains for Mr H because he  can't manage it on his own, to shovelling a tonne of compost for the Food Growers Group so they can grow vegetables. After a career in finance, Paul is now semi-retired. He helps coordinate GoodGym Barnet, acts as Company Secretary for Stephens House and Gardens, and devotes much of his remaining time to a variety of sports, including squash, running, cycling and triathlon events, as well as representing the UK in 'ultimate frisbee'. He is also a qualified yoga teacher and a qualified run leader through British Athletics.
Nick Starling explained the background to the introduction of cycle lanes and Low Traffic Neighbourhoods, the legislation passed in the light of Covid 19 (including that related to the A1000 cycle lanes), and why Barnet Council will have to present data supporting retention or removal of these cycle lanes. Nick Starling is now retired from careers in the Department for Transport, the Health and Safety Executive, and the Association of British Insurers, where he dealt with road safety issues. He was previously a Trustee of the Parliamentary Advisory Council for Transport Safety, which researches and campaigns on transport safety issues.
Michael Levitsky addressed the vexed issue of the many redundant phone boxes on our streets and their proposed replacement by large 'BT Hubs'. These Hubs are video advertising media masquerading as useful communications facilities. This new street clutter uses a surprisingly large amount of electricity to power super-bright video screens, thus producing unnecessary CO2 emissions at a time when we are under a Climate Emergency. Michael has been involved for several years with the Society's Planning, and Environment and Transport Committees. Now retired, he worked for thirty years as an energy economist for oil companies and then for the Oil and Gas Department of the World Bank. He states that having done his bit, quite unwittingly, to help befoul the planet, he spent the final years of his career working on climate change policy.
Stephens House: The meeting took place at Stephens (Avenue) House, 17 East End Road, Finchley N3 3QE. It began at 7.30 pm.
Online: The meeting also took place via Zoom.
Note: You will find an internet calendar (ics) file here. You can use this file to add the November meeting to your online calendar.