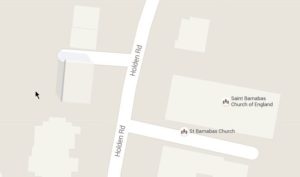 Brookdene
… is a parcel of land between Holden Road and the Dollis Brook,almost opposite St Barnabas' Church.
On it there is a group of maisonettes, and, by the brook, an area of woodland – a little-disturbed haven for wildlife – which is owned by the Council. Developers want to replace the maisonettes by a block of flats, and to lease the woodland from the Council and manage it.
The Council agreed to the lease, but the development attracted many objections, including one each from The Finchley Society and the London Wildlife Trust. It went to committee on 28 October, and councillors refused permission, overturning the recommendation of council officers. The developers could either abandon the proposal or try again, by appealing or redesigning the scheme (they could do both of these, in parallel); for the moment we are waiting to see what happens and shall react accordingly.
According to Derek Warren, chair of the Society's Planning Committee, "Dollis Brook, together with the land either side, is a wonderful Green Corridor running through the Borough, and it is essential to retain as much of this as possible, especially as there is so much pressure on the Green Belt. We have very little woodland like the area behind Brookdene. This has fine mature trees including oak, ash, alder, yew, sycamore, larch, together with much undergrowth, and is a haven for a great variety of wildlife including sparrow hawks. There are well worn paths in the area and it is a pity that the Council never incorporated this area into the Brook Side Walk, or made it into a small nature reserve."